Picture it: It's back-to-school time. You've stocked up on school supplies: folders, notebooks, rulers, crayons, and pencils. Pencils! You forgot the pencils! "No problem", you think. "I'll just run to the big box store and pick some up." Right? Wrong. Before you purchase ordinary pencils for your classroom, consider the quality of those pencils. While it's easy and cheap to grab the first pencils you see, quality DOES matter when it comes to these essential school supplies. High-quality pencils make a huge difference in the culture of your elementary school classroom and the success of your students.
Quality Pencils = Fewer Classroom Disruptions
As a teacher, you know the drill: Just when you're ready to start class or hand out a pop quiz, or when students are supposed to be working silently, the onslaught to the pencil sharpener begins, and every productive thing happening in class grinds to a halt. Time wasted. Focus lost.
To prevent this mad rush to the sharpener, stock up on high-quality pencils that don't shred, unravel, or break. You may want to consider pre-sharpened test-taking pencils that are ready when you are. High-quality pencils are essential to ensure:
• Classes can get started on time and stay on schedule
• You and your students can stay focused on the tasks at hand
• The room stays quiet, so everyone can concentrate

Better Pencils = Increased Student Confidence
Bold and colorful pencils that are easy to use make writing smoother and more fun, and when writing is fun, kids want to do it more. High-quality pencils can help you promote a culture of confidence in your classrooms. Use just-for-fun pencils as student incentives and awards to motivate and inspire your students to keep on writing.
Sturdy Pencils = Better Writing
It's a fact that students who learn the proper writing skills early do better in school – and in life. Writing is essential to everything they'll do in the future, so it's important to give your students the tools they need to achieve now and succeed later. Pencils with strong lead, comfortable grips and sturdy barrels help students form letters properly and write legibly, which leads to better writing and reading comprehension and stronger communication skills that will take them through their school years and beyond.
Reliable Pencils = Great Value
The old saying, "you get what you pay for" is really true. While you might save a penny or two by buying cheap pencils, you will end up saving money in the long run by spending a bit more on quality custom pencils that you won't have to replace as often. Investing a little now means saving a lot later on.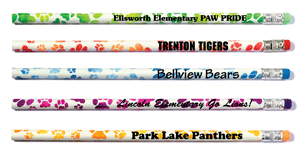 High-quality Pencils = Responsible Students
Students who use low-quality pencils that fall apart or make writing look blurry or dull have no incentive to keep them nice –or keep them at all. Kids will be proud to use pencils that are comfortable, strong, and easy to use, and they'll want to hold on to these quality school supplies. They'll learn to respect their (and others') property and develop a sense of responsibility.
For some things, quality doesn't matter, and you can get away with skimping to save a little money. Pencils are not one of those things. Sacrificing the quality of the pencils in your classroom is equal to sacrificing the quality of learning for your students. When you gear up for the next school year, be sure to stock up on high-caliber pencils and set your kids up for success.
Need top quality stock and custom pencils for your school or classroom? We have you covered. Shop now at itselementary.com