Anti-drug programs for schools have been around since the 1980s. If your elementary school's anti-drug program seems a little dated It's Elementary has some fresh new ideas for you. With eight unique anti-drug designs and fun, yet functional, student behavior awards, we can help your elementary school stay drug-free and encourage your students to say no to drugs.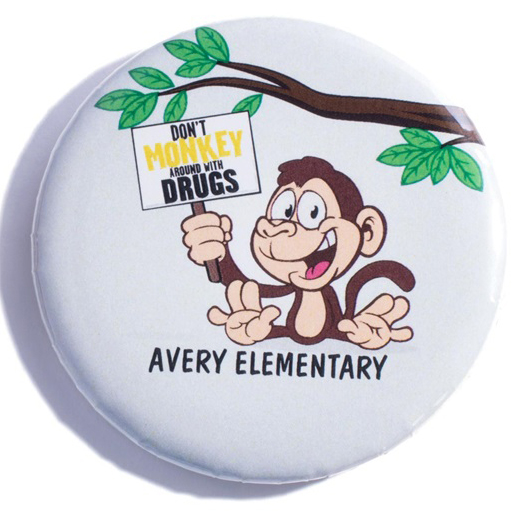 1. Don't Monkey Around with Drugs
One thing that almost always resonates with children are animals. The cute little monkey on our "Don't Monkey Around with Drugs" student awards is a great way to remind your elementary school students to always say no to hurtful substances.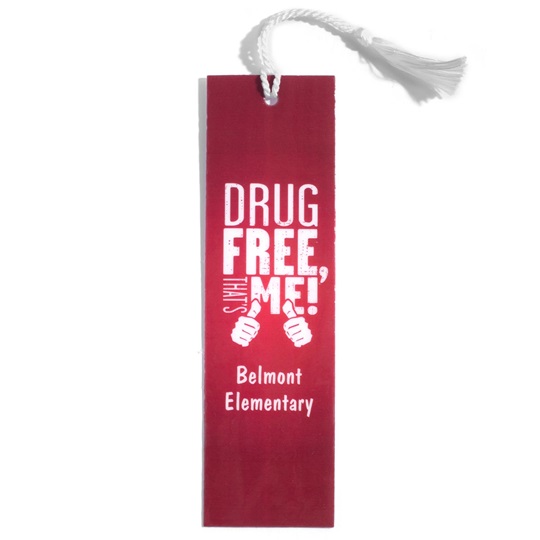 2. Drug Free, That's Me
It's always important for elementary schools that their students are proud of themselves. So, anti-drug program slogans that focus on student pride, like our "Drug Free, That's Me," are definite winners. The two thumbs up design of this slogan on their dog tags or bookmarks will have students trying to imitate their award!!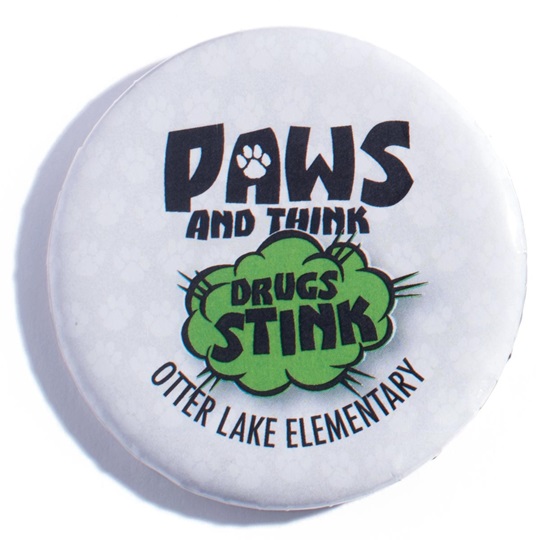 3. Paws and Think. Drugs Stink.
Is there anything more fascinating to kids than stinky smells? Put a little comedy in your anti-drug program with this "Paws and Think. Drugs Stink." slogan and design that features a green stink cloud. The paw shape of the "A" in the word "paws" is also the perfect way to integrate your elementary school mascot with your anti-drug slogan.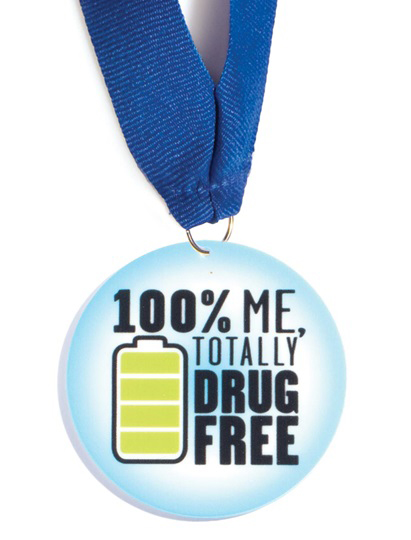 4. 100% Me, Totally Drug Free
Tie your anti-drug slogan to all of those electronic gadgets that kids love with this "100% Me, Totally Drug Free" battery-themed slogan. Between the popular blue and green color combination, full battery, and motivational slogan, your students will love showing off any student award, like Buttons, featuring this design.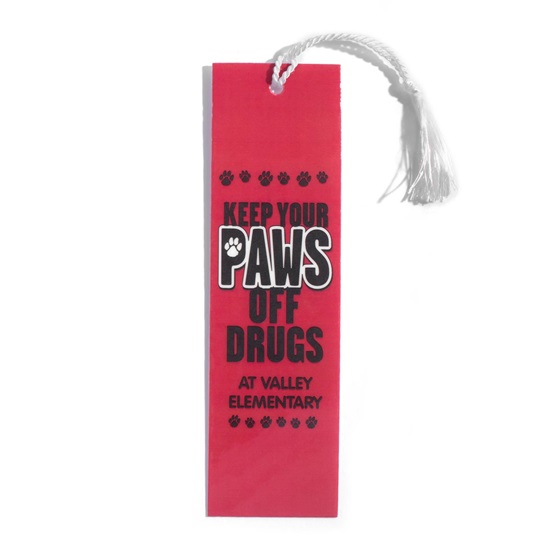 5. Keep Your Paws Off Drugs
This anti-drug slogan utilizes a powerful tool–your elementary school mascot. If your school has a "big cat" mascot, this paw-themed "Keep Your Paws Off Drugs" anti-drug slogan is a great choice for you. Children will love the play on words and the animal theme of this trendy slogan on their Medallions and other awards.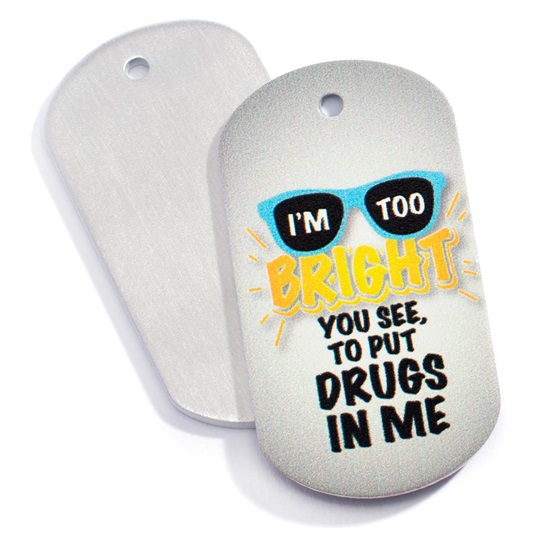 6. I'm Too Bright You See, to Put Drugs in Me
By combining a bright color with a pair of cool sunglasses, this "I'm Too Bright You See, to Put Drugs in Me" anti-drug slogan will be a big hit with elementary school children. Not only is this fresh new anti-drug slogan very straight-forward, it is another perfect slogan that appeals to student pride. It will look amazing on all kinds of awards, like Dog Tags.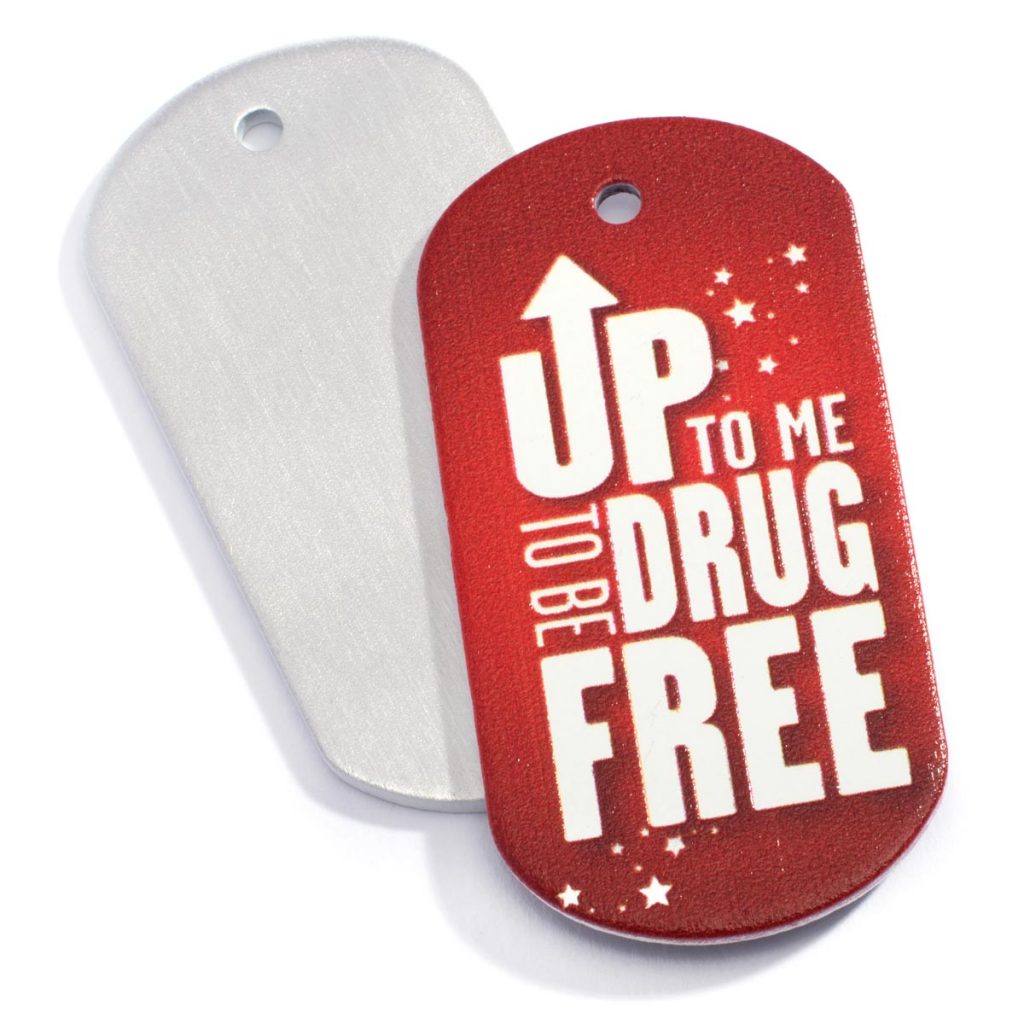 7. It's Up to Me to Be Drug Free
Another simple and straightforward design, this "It's Up to Me to Be Drug Free" anti-drug slogan and design also has a subtle inspirational design. The arrow of the "U" and the small white stars are a great way to encourage your elementary students to always reach for the stars instead of hurtful substances. Bookmarks with this unique anti-drug program slogan are fun personal items that students will love.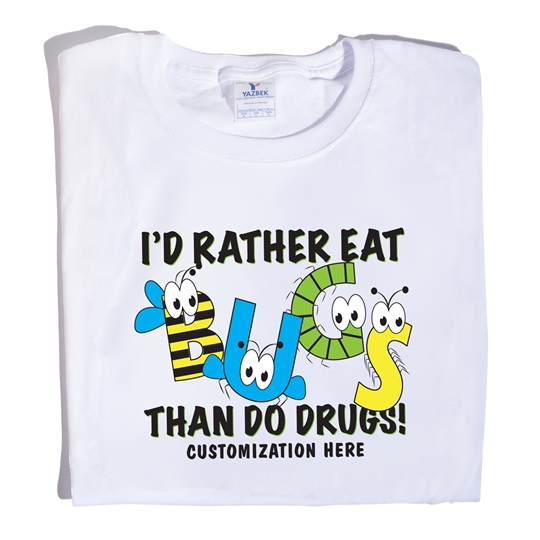 8. I'd Rather Eat Bugs Than Do Drugs!
This colorful and whimsical anti-drug slogan will have both teachers and students smiling. Kids will be so eager and proud to announce that they are drug-free when "creepy crawlie" bugs are involved with a slogan like our "I'd Rather Eat Bugs Than Do Drugs!" Drug awareness program awards, like Medallions, with this slogan will definitely grabs people's attention!
Most of these anti-drug slogans come printed on popular student awards: Dog Tags, Medallions, Buttons, T-Shirts, and Bookmarks. Our anti-drug Dog Tags and Medallions come with the slogan of your choice printed on them as is, so they are ready to ship the same day, if you order by 1:00 pm. EST. Our anti-drug Buttons, Bookmarks, and T-Shirts are customizable, so you can add your own custom text to make them unique to your school and your anti-drug program. Choose a slogan and student awards that work best for your elementary school and students!