Use this quick list to stock your school store with perfect supplies that your kids will love and that will maximize your profits.
1. Functional School Supplies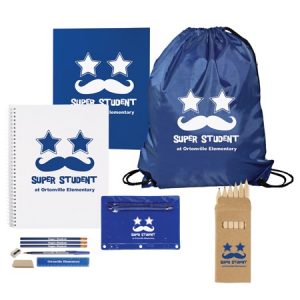 School supplies include everything from pens, pencils, and erasers, to folders, organizers, and backpacks. Every school store needs these day-to-day essentials, especially in cool colors that students love. Better yet, get them in your school colors to build school spirit.
2. Spirit Supplies
Spirit supplies is a broad category that includes custom spirit apparel (T-shirts, sweatshirts, and knitwear), poms, paw pride items, sport balls, foam rousers, water bottles, and pennants. Customize your school spirit supplies with your school name and mascot to boost school pride.
3. Novelty Items
Kids will frequent your school store even more if you keep your store stocked with lots of novelty items like face paint, sunglasses, wallets, key chains, and wristbands. Not sure what items they'll like best? Ask your school store manager to do a little market research and get kids to vote on the items they like before you buy them.
4. Construct A Display
Be sure to use your school storefront to show case your items. If you don't have a storefront or if your store isn't located near high-traffic areas considering using our  Paw Store. It's a quick and easy way to create a school store display and order supplies. Each display comes stocked with paw school spirit supplies and includes a cardboard stand for easy portability and display so you can set them up during special events and in popular areas to increase sales.
As you're considering what to include in your store don't forget to take advantage of our Sample Program, so you can try school store supplies before you buy them.