Student awards are great for inspiring and motivating your elementary school students, but awards can get expensive if you have several award ceremonies throughout the year or you use them every day in your school or individual classrooms. Here are 5 easy ways to save money on student awards without depriving your kids of the recognition they deserve.
1) Purchase Award Sets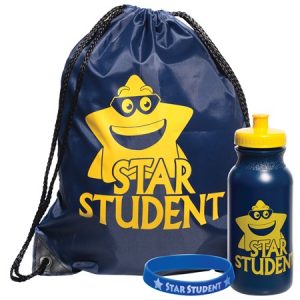 Purchasing award sets is a great way to maximize your budget for student recognition items, because sets give you more awards for your money. You save money when you purchase student awards in sets over buying items separately. You can split award sets up to cover several students with one set, or you can give one complete set per student, but give the awards at different times throughout the year. Either way, you save money (and time).
2) Supplement your Awards
You can save money on student awards by supplementing them with inexpensive touches, like a personal note. An award pin is a great award, but an award pin attached to a card with a special, handwritten note is much more meaningful and memorable for the student receiving it.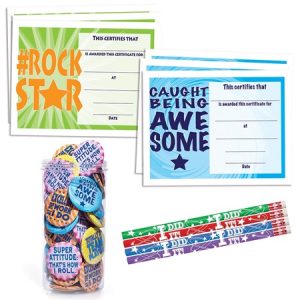 3) Buy in Bulk
As is true with many things we buy, purchasing in bulk can be a huge money saver. Stock up at the beginning of the year with enough awards and student recognition items to last you all year. This way, you can take advantage of the price deals that come with placing large orders and you only have to pay shipping one time.
4) Sign up for E-mails/Specials
Get on the e-mail lists of companies you purchase from, so you will receive all the deals and specials they offer throughout the year. You can save a ton of money if you stock up during Early Bird Specials and other special offers throughout the year.
5) Buy Stock Items 

While custom imprinted awards are always fun, they are also often more expensive than awards that do not feature your school name. Opt for stock awards, like dog tags, trophies, ribbons, or pins that can apply to many different accomplishments or achievements. Kids will still be proud to receive and display awards like this in honor of their achievements, and you will save school budget money.
With a few simple ideas like these, you can give your kids meaningful student recognition awards they will love without breaking your school budget.
Do you want to save money on student awards? Shop itselementary.com now!