Setting up a candy buffet at your Sadie Hawkins dance, Spirit Week, carnival, or other middle school event is more than just filling bowls with candy and setting them on a table for students. Follow these 8 steps to create an amazing candy buffet that satisfies every sweet tooth and keeps students coming back for more.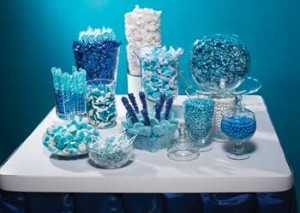 1. Choose a color. 
Set out candy that matches your middle school colors or a color that matches your holiday party or dance theme color(s).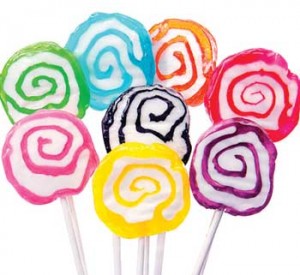 2. Choose a type of candy for your buffet. 
Types of candy range from individually wrapped mints and chocolates, bulk candy like hard candies and gummies, or custom chocolate bars. You can also mix and match candy types for a nice variety. Choose a candy type(s) that fits your event the best.
3. Create a map of your table. 
Having a map of your candy buffet is a useful  tool, especially if you order a lot of candy. Make sure to put taller containers in the back. Or set containers on top of small pedestals. Have your art teacher (or student artist) sketch how you want to arrange your candy buffet. Put a sheet cake or baked items in the middle. Use your imagination!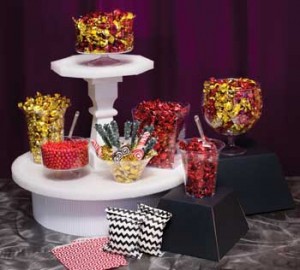 4. Choose your containers.
This step goes hand in hand with step 3. Don't forget to use clear containers for candy with a color scheme. Make sure that you use containers with large openings to accommodate scoops. Also, decide whether you need to label containers.
5. Determine how much candy/containers you need.
This is the most important step in creating a great candy buffet. 25-40% of your jars should be small and easily filled with one bag of candy. Use this guide to figure out how much candy you need to order.
1-50 guests: 5 jars candy
50-100 guests: 10 jars candy
100-150 guests: 15 jars candy
150-200 guests: 18 jars candy
Over 200 guests: 20 jars candy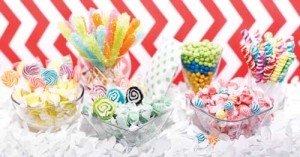 6. Decorating your table. 
Have your artistic teachers and/or students design and decorate the overall look. This includes things like the tablecover, centerpieces, and backdrops. They can design it to complement your event theme, like an enchanted forest, cityscape, garden, and more.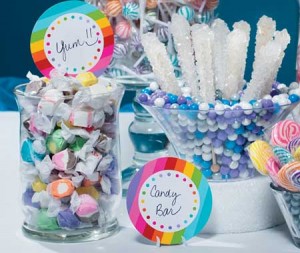 7. Finishing touches. 
Once you have your candy buffet set up, add little embellishments. Label candy if necessary. Tie bows and ribbons to containers and display pieces. Or scatter confetti on the table.
8. Last minute tips.
Keep these quick tips in mind during your planning.
• Add cookies, cupcakes, and other treats to mix things up.
• Don't forget to label candy or treats that are gluten-free, nut-free, etc.
• Make sure you have enough tongs and scoops.
What tips did you use for your candy buffet? What was your students' favorite candy? Let us know.