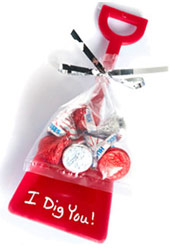 If you're looking for a fundraiser, you'll "dig" this Valentine idea!
Raise funds for groups such as Student Council, Band, Drama Club, or a special project at school! Sell these cute Valentine-grams. Kids can purchase them, write a personal message to attach (if they choose to) and have them delivered to their recipient on Valentine's Day.
You will need:
• Small plastic shovels in any color (consider your school colors)
• Your favorite valentine treats or candies
• Clear cellophane, cut into 10" squares, or small plastic bags
• Ribbon in any size or color you like.
• Paint pen or permanent marker (in contrasting color to the shovel).
• Small note or card for the students to personalize their Valentine
Step 1:
With a marker, write "I Dig You!" on each shovel, as pictured. If desired, decorate with Heart Stickers or other valentine decorations.
Step 2:
Cut cellophane into a 10″ square. Wrap a small amount of Valentine's candy with the cut cellophane. Tie candy bag with ribbon to handle of plastic shovel.
 Variations:
Who says only pink and red are appropriate for Valentine's Day? Get creative with different colored shovels, cellophane and ribbon. Use your school colors or mix it up with a variety of colors. Another option is to have each shovel color represent something different, for example:
Blue – Teammate
White – Friendship
Green – Best Friend
Pink – Secret Admirer
Red – Love
For treats consider candy hearts, jelly beans, gummy bears or any small candies.
Have fun with it, and let your students help plan the details. They'll love this new idea for Valentine-grams!