It's back-to-school time again. Whether you are still gearing up for the start of a new school year or classes are in full swing already, it's important to make all of your students feel welcome, comfortable, and prepared for the year to come. Here are our ideas for easy and affordable student welcome gifts to get your kids excited for a great new year.
1) Student Welcome Gifts: Activity Sets
Hand out back-to-school activity sets or fun packs  as students enter your classroom, or place one at each desk. Having something fun for the kids to do while you're busy greeting other students and getting things organized will alleviate kids' anxiety and help keep them quiet and focused until you're ready to start class.
2) Student Welcome Gifts: Custom Apparel
Custom apparel designed specifically for your class or school is a great way to promote unity and give kids a sense of school pride as they start the new year. Create T-shirts, sweatshirts, hats, knitwear, or other fun apparel items that feature your school name, mascot, or class motto to make students feel extra-special on the first day of school.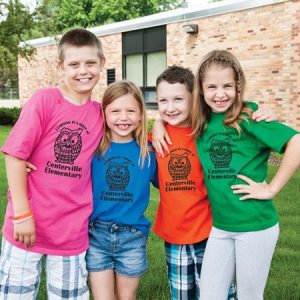 3) Student Welcome Gifts: Backpack Kits
Either at orientation or on the first day, give each child a welcome backpack customized with your school name. Fill the bags up with fun and useful items your students can use all year long, like:
4) Student Welcome Gifts: School Supplies
Most students come to class with some pre-purchased school supplies, but you can add to the mix by providing special, customized items designed to get kids pumped up and ready to learn. Here are some fun ideas: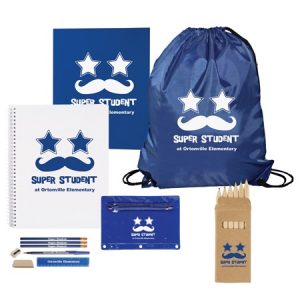 5) Student Welcome Gifts: School Spirit Items
Since you'll be stocking your school store with fun school spirit items, grab a few more to hand out at the classroom level on the first day of school. Add your school name to items, like pennants, flying saucers, sunglasses, bandannas, and more to create cool school spirit items students can use at home or at school to show their school pride all year long.
As the new school year starts up, say "Welcome back" to all your students with fun, easy, and affordable gifts, like these, that will get them engaged with their class, excited for learning, and ready for a spectacular school year.
Like these ideas? Shop for all your back-to-school needs at ItsElementary.com