It's time for elementary school graduation. Are you ready to celebrate? Whether your school goes low-key or all out for graduation, here are a few essential elementary school graduation ideas to you'll need to pull off an amazing graduation for your students and their families.
A Graduation Theme and Decorations
Your students will only graduate from Kindergarten (or 5th grade or 6th grade) once, so make it memorable. Pull out all the pomp and circumstance with a grand entrance, like an arch, and a pathway for graduates to walk down to receive their diplomas. You can enhance the look with other graduation decorations, like a complete graduation theme or accent pieces, like columns or prop kits. Mix and match pieces to create the look you want.
Elementary School Graduation Apparel
Graduation apparel varies from school to school. At some schools, graduates wear "dress up" clothes, and other schools go all out with caps, gowns, tassels, and sashes. Some schools do a combination, where graduates wear regular clothes and also sport grad caps and tassels or sashes, so graduates can keep special mementos from the big event.
Graduation Diplomas and Awards
Besides graduation diplomas for all your graduates, hand out certificates for special achievements, like Honor Roll, attendance, reading, and more. Other awards kids love:
A Photo Area
Parents will want to snap tons of pictures of their little graduates, so make it easy with a designated photo area. There are lots of easy and fun ways to do this:
Have students pause for photos under the entrance arch.
Set up a fun mural, fabric, or background paper as a photo backdrop.
Include a "selfie station" with prop kits and cut outs for students to pose with.
Elementary school graduation is all about the memories. With these easy ideas, you can create a fun and, meaningful, and memorable event for your students and their families.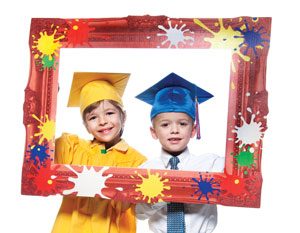 A Graduation Party
Once graduation is over, it's time to celebrate! Put on a party for your little graduates and their families to celebrate graduation. Whether each class has its own party or you have a school-wide affair, here are a few things you'll need to make it a success:
Decorations: balloons, banners (Congratulations Graduates), streamers, centerpieces
Food: sandwiches, punch, pizza, veggies, fruit bowl
Fun: Set up game stations around the space to keep kids entertained
Yearbooks: Have kids sign each other's, and be sure teachers sign one for each student
Feeling inspired by these elementary graduation ideas? Shop our Graduation section at It's Elementary to find everything you need.