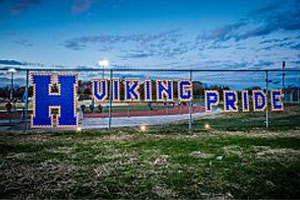 Put-in-cups for school fences are a popular new School Spirit decoration…and apparently they are sturdy enough to make it safely through a tornado.
One of our customers, Joy Siebenshuh, recently shared this story of their school's put-in-cups making it through an F4 tornado. You can read her story below. Thankfully no one was injured in the storm, though some property and homes were damaged.
Hi,
Talked to one of the very nice ladies on the phone about an order and was telling her about our fence cups surviving an F4 tornado on May 31 this year.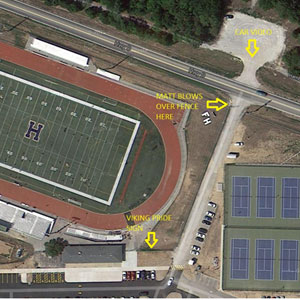 See the pictures and links to the tornado video below.
I went over to the school the next morning expecting to see missing pieces to our design.  I was amazed to see that not even 1 was missing.
We have had so many compliments on our "H" and other schools in the area are putting up their own designs.
Thanks for a great product and a wonderful staff that helps me with all my questions!
Joy Siebenshuh
Francis Howell Football Boosters
Storm Video – at 6:38 into the video, you'll see the storm hit. The video is taken from across the road from the school, and he's looking down the entrance road to the school.
Check out put-in-cups from Anderson's for your school now.