A little something from you, as you say goodbye to your class!
With the school year winding down, you may be thinking about a good-bye gift for the kids. The craziness of the classroom and all the end-of-year activities make it hard to find the time or money for something special.
These Summer Survival Kits are the perfect solution. They're easy and affordable! One you assemble, the other comes assembled for you! There's also a sample note you could include in each. Take your pick, and have fun. Your kids will appreciate them.
Summer Survival Kit #1
Get some pre-assembled bags of goodies and attach your own note to personalize them.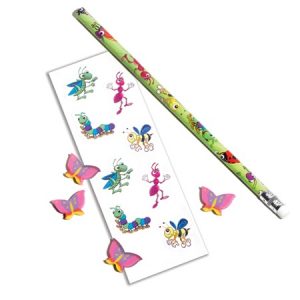 Activity Fun Packs are perfect- and very affordable! They come in a variety of themes and are filled with toys and novelties that your students will love to play with all summer long.
Summer Survival Kit #2
Assemble your own Summer Survival Kits! It could be a classroom activity. Set up stations around the room with each item and let students go around and fill their kits. Then you collect the kits, attach a cute note to each, and hand them out on the last day of school. Or fill them yourself to keep it a surprise for the last day.
1. Start with a bag. You could use something as simple as a brown paper lunch bag and have the kids decorate them. Party favor bags or small gift bags work great too. You could get more extravagant and use school supply pouches or inexpensive backpacks.
2. Fill your bag with anything you desire. These are ideas we came up with, but you could certainly get creative and fill it with anything you like.
Lollipop or other candy
Bubbles
Adhesive bandages
Books
3. Attach a note with a short message from you and fun tidbit about each item.
Looking for year-end awards and gifts for your students? We can help. Shop now at itselementary.com.