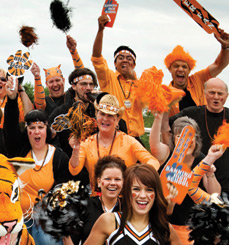 It's time to start thinking about school spirit!
Fostering school spirit and encouraging student participation has many benefits. It helps encourage unity among students, parents and staff, grows confidence and sportsmanship, and encourages the dissolve of social divisions.
And let's not forget about fundraising. School spirit products and events can yield huge contributions to school and athletic funding.
So this year get crazy with school spirit!

School Spirit Ideas:
Fan Friday: Every Friday encourage School Spirit with prizes for the most decked out.
Spirit Friends: Choose an inexpensive item like Shakers. Sell them during spirit week to be delivered to friends with a personal message. You'll spread spirit throughout the school and raise funds at the same time!
Give-Away-Day: One day a week draw the name of one student and one staff member for a prize such as a movie ticket, gift card, school store certificate, spirit merchandise or football game ticket. Or have some T-shirts on hand to give-away. If the person drawn is dressed in school spirit colors/garb they win, if not a new name is drawn.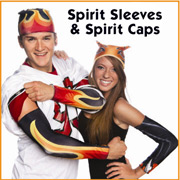 Fundraisers: Exciting new spirit products can ignite a new interest among students. Look for unusual and unique items. Sell them in the school store or hold a special spirit event, and sell them in the hallways or lunchroom during spirit week.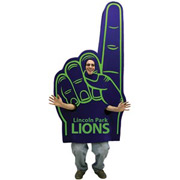 Spirit Sleeves
Mascot: Update your mascot costume or add a fun fan costume like a giant Foam Body Hand. Draw attention, get fans involved and encourage participation.
How do you encourage school spirit at your school?