Student birthdays are always a big deal, especially in middle school. Most students officially become teenagers during their middle school years. Of course, birthdays are always a celebration no matter what the students' age, and you should be prepared for all of them. Recognize every middle school students' birthday throughout the school year with these five fun birthday gift ideas.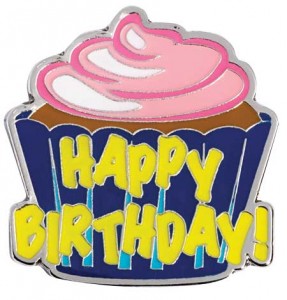 Colorful award pins are always a fun, and functional, idea for student birthday gifts. We love this cupcake-shaped pin. It's a small way to acknowledge every middle school birthday, and the delicious looking pin is sure to add a smile to your students' faces!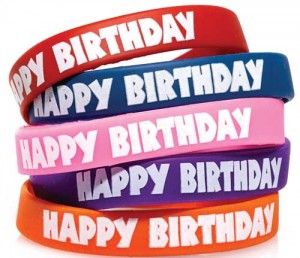 Middle school students love awards and gifts that they can use again and again. "Happy Birthday" Wristbands come in a variety of bright colors that middle school students will love to wear all day long.

3. Pencils and Pencil Toppers
Hand out functional gifts for middle school birthdays like Pencils and Pencil Toppers. Not only are pencils and accessories easy gifts to hand out, they are also an inexpensive option that won't hurt your budget. Pencils are one birthday gift students will use for quite a while; every time they do their homework, in-class work, and tests.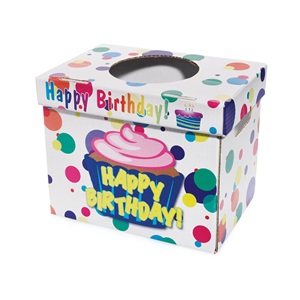 Prize Boxes are a unique way to celebrate middle school student birthdays. Fill the box with small gifts (pins, pencils, charm clips, dog tags, coin purses) and on each student birthday the lucky boy or girl can reach inside for their birthday prize! Another way to use the birthday prize box is to have every other student in the class write down a birthday wish and then present the entire box as a gift–filled with birthday wishes–to the birthday boy or girl on their special day.
Still not sure what to choose for birthday gifts? Our handy Happy Birthday Award Kit is a great option for you. This unique kit includes over 400 items (pencils, certificates, ribbons, buttons, wristbands) to help you prepare for every student birthday for the entire school year! You will have so many gift ideas in this kit, you can hand out a couple of gifts for every middle school student birthday.
6. Don't forget to acknowledge all those summer birthdays, too! 
How does your middle school celebrate student birthdays? Let us know.