"We've got spirit, yes we do! We've got spirit, how 'bout you?"
No question about it, Spirit Week ranks up there with some of the best days of the school year. There's just something about the camaraderie, big fun, and getting crazy with school spirit that really unites the student body, and promotes morale among students, teachers and staff. We've compiled some ideas to freshen up your Spirit Week and get everyone involved.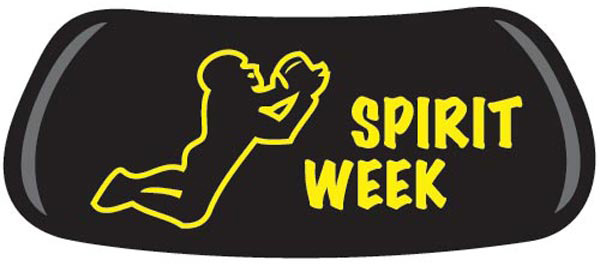 Spirit Week Days
It's all about the "Days" so make sure to pick some good ones, and don't be afraid to venture away from the tried and true traditions. Throw in a couple new, wacky or completely off-the-wall ideas! Get the committee together and brainstorm ideas. Here are a few to get you started:
Holidays throughout the year – have an Ugly Christmas Sweater Day, Easter Bunny Day, St. Patrick's Leprechaun Day, or any other holiday that is out of season.
International Days – Choose a different country for each day of the week.
Star Wars Day
Alien Day
Wizard of Oz Day
Willy Wonka Day
Wild Shoe Day
Polka Dot Day
Spirit Wear Day
Spirit Week Activities
Plan fun activities throughout the week to keep excitement high, engage as many students as possible and maybe raise some funds. Any of these suggestions could become a fundraiser by charging a small fee for participation. However, try to keep costs low (about $1-$2.00) so that everyone can have fun.
Minute To Win It – set up challenges that students can try during lunch, before or after school and at events such as the dance or game. Prizes could be spirit items or tickets to the game.
BYOB – host a banana split day. BYOB: Bring Your Own Banana. Make banana splits for anyone that brings a banana.
American Idol event – host a singing competition.
Glee Marathon – hold a "Glee" marathon and play episodes of Glee on the big screen.
Tailgate – grill out in the parking lot before the big game.
Survivor – teams or individuals enter and participate in competitions throughout the week. Each day some are eliminated and the winner is announced at the end of the week.
Tips for a Successful Spirit Week
Spirit Week is a time to let creativity run wild. Here are a few tips to make sure it's run's smoothly:
Use our homecoming checklist and event budget planner to make your job easier!
Have fun. Isn't that what its all about? Don't stress over things you cannot make happen, instead focus energies on the things you can!
Be safe. For every plan you make, consider all possible safety issues. Work with advisors or school staff to make sure everything is A-OK.
Always strive to include all students. The point of Spirit Week is to promote spirit and enthusiasm in your school. Work to come up with plans and ideas that will incorporate all students. See if you can get some of the "shy" ones to participate and increase your entire student body morale.
Consider teaming up with booster clubs. They are almost always willing to help, and often have great ideas, spirit items and volunteers.
Keep a record of spirit week ideas from year to year and take notes on what worked well and what ideas flopped.
Work with your school faculty, not against them. Make sure you get all necessary "permissions" for your plans.
Plan Early. The more time you have to plan, the more successful your week will be.
What other ideas or tips do you have for a successful spirit week?
Get ready for spirit week now. Check out our School Spirit section to get all the school spirit items you need.