A Family Movie Night is a great way to keep students and parents engaged in your elementary school, as well as an easy way to fundraise for your school. Here are 7 fun and easy tips for a five-star Movie Night event:
1) Make it Convenient
Choose a day and time that works for both kids and parents. If you want an evening event, start Movie Night as early in the evening as possible (5 or 6 o'clock), as young children may get tired if the event goes too late. Encourage younger children to come in their pajamas if they want to, in case they do fall asleep.
2) Advertise in Advance
Start advertising as early as possible, so families have adequate time to plan. Get the word out by hanging up banners and posters around school, sending home flyers in students' folders, making an announcement at the PTA/PTO meeting, and sending e-mails to parents.
3) Decorate, Decorate, Decorate
Choose decorations that match your chosen movie or a Hollywood theme. At the entrance, set up a red carpet and line the walls with holographic stars for a real Hollywood feel. Inside, set up a screening area with movie theater-style seating and drape walls in dark fabric. Decorate tables with textured and reusable floral sheeting and popcorn machine centerpieces.
4) Sell Tickets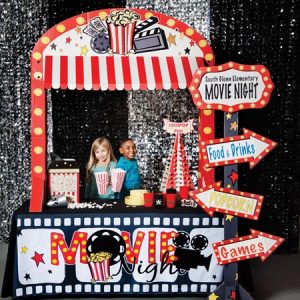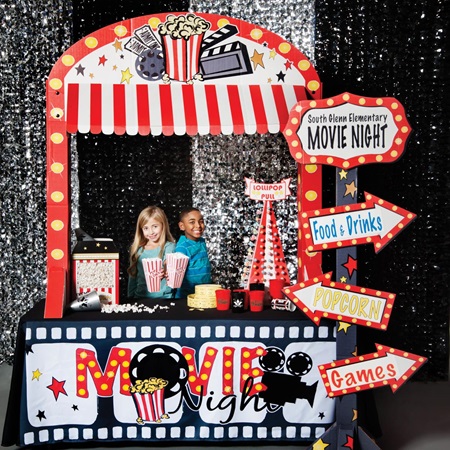 Create an authentic movie-theater experience by set up an authentic ticket booth at the entrance. Sell tickets that can be used as entrance passes or for concessions.
5) Offer Concessions
Set up a concession booth where moviegoers can use tickets to "purchase" refreshments and souvenirs. Offer healthy fare, like carrot sticks, fruit and milk, as well as standard movie-theater treats, too, like popcorn, juice, and gummy bears. Offer them in popcorn megaphones and plastic cups that become fun souvenirs when you imprint them with your school or event name.
6) Choose Appropriate Movies
Carefully consider what movie(s) you want to screen for your Family Movie Night. Choose films that will appeal to all audiences – young children, older children, and adults – to ensure everyone has a good time.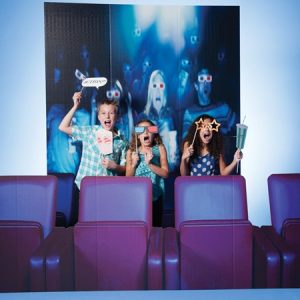 7) Set up a Photo Booth
Make it interactive by setting up a photo booth or photo area with photo props and costumes where kids and parents can get their pictures taken in all kinds of outfits, from glamorous to silly.
Follow these 7 easy tips and you'll earn rave reviews at your elementary school Movie event.
Ready to plan a five star movie night at your school? Shop itselementary.com for everything you need.