Operating and managing a concession stand during game days, fundraisers, and other school events is a lot of work. Use these 12 tips to get the most from your concession booth or stand and yield more profits for your school.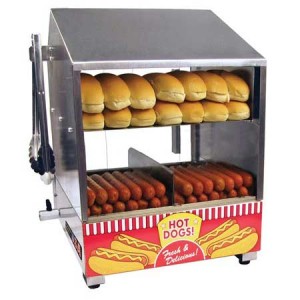 1. Buy your own concessions equipment; don't rent it! Use concession machines (Sno Cone, popcorn, hot dog, etc.) for lots school events from sporting events to your All-Night Senior Party to orientation.
2. Sell reusable containers like plastic Stadium Cups and Popcorn Holders instead of paper ones. Sell them at an extra charge (and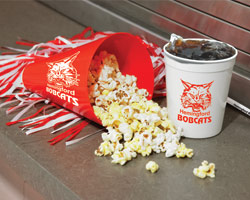 extra profit). Fans will love these spirit keepsakes.
3. Properly maintain your concessions equipment so you don't have to pay for repairs or replacements.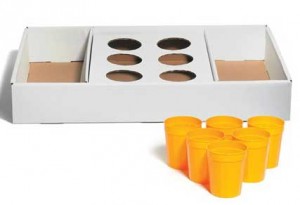 4. Advertise! Use portable food carriers or signs that you can bring into the stands to entice fans to buy.
5. Manage your inventory and pricing. Lower prices on slow selling food/candy or offer specials, so food doesn't get tossed at the end of the night or event.
6. Choose foods that can be turned quickly. Long lines will discourage purchases. Make sure you have the right equipment to do this!
7. Choose the right location. Set up concessions in a central location where you will get a lot of foot traffic (field entrances, near restrooms, or certain landmarks). The more fans that see you, the more profit you make.
8. Consider storage needs. Use good judgment for storing non-perishables. Chocolate may not hold up well in a certain storage spaces. And check expirations dates. You don't want to lose inventory because of weather conditions.

9. Provide healthy food options. Everyone has different tastes. Offer healthier choices like granola bars, dried fruit, nuts, yogurt, or various juices. It can only help your profitability to cater to all taste buds.
10. Keep your concession stands clean. Fans may not make multiple trips if your stand is messy and unappealing. Keep rags, cleaner, a broom and dustpan, and simple cleaning supplies around for slow times.
11. Use sign-up sheets to stay organized. If there is no one to man your concession stand at all times, you will lose money. Draw up a schedule and sign-up sheets to ensure there is always someone working.
12. Show volunteers you appreciate them. Running a concession stand for school events is a lot of work. Keep your volunteers excited to keep volunteering with recognition gifts. If no one is there to run things, you won't be as profitable.
How did your school stock or manage your concession stand? Let us know. We love feedback!