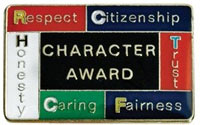 Good character can be a rare commodity among middle-schoolers. Rewarding good character helps them recognize positive behaviors, remind them that there are multiple rewards for doing the right thing, and helps encourage others to follow suit.
As teachers, we continually strive to encourage good character, whether it be telling the truth, helping someone in need, stopping or reporting bullying, showing respect, responsibility and integrity. We know that middle school kids are stuck somewhere between childhood and pending adulthood. Their actions and behaviors can vary drastically from day to day and their perceptions are sometimes skewed. That's why positive reinforcement is always helpful, and is just one way we can help make a diffence for them now and in the future.
Start by setting goals. Discuss good character with your kids, or develop some lesson plans that focus on good behaviors. Then follow up with reward for displaying examples of good character. Surprise rewards are always fun, or set goals and track them, then reward them when they reach a certain point.
Rewards can vary and can be as simple as a pencil or a pin. Use highly desirable rewards to create more interest and intrigue. Some fun ideas are shown below.
Every middle-schooler would love a new pair of ear buds. Customize them with the school name, mascot or a great Character phrase and you've got yourself a highly desirable reward. They are standard size and fit into any electronic item that allows ear buds, or has a head phone jack.
USB Charging Block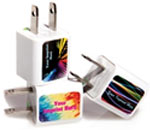 USB Chargers make a functional reward. This A/C USB Charger Block charges cell phones, MP3 players, iPods, or any USB chargeable device. Imprint with a character phrase, school name, or mascot.
This functional reward features easel stand to keep phone visible and folds flat (2 1/4″ x 4 1/2″) for easy storage. A non-slip pad keeps phone in place. Fits any cell phone. Choose your colors and imprint for a keepsake they will appreciate.
Kids can use this useful reward for cleaning phones, tablets, computers, screens, eyeglasses or sunglasses! 6″ x 6″ cleaning cloths are made of soft, scratch-free microfiber. Choose from many colorful designs and add your own imprint for a trully one-of-a-kind reward.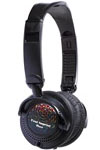 Headphones
What middle-schooler wouldn't love a new pair of headphones? They can use them for MP3 players, cell phones, video games and any other item with a headphone jack. Imprinted with their school name, mascot or a phrase like "Character Counts", these black headphones with full color imprint will be a treasured keepsake they will love to use.