If you're getting ready to open a School Store, or re-vamp the one you have, these guidelines will help your store be profitable and rewarding.
The Plan
Start by creating a business plan. It can be simple or extravagant. You'll want to calculate costs, potential profits, and outline a general plan of action.
Location. Location. Location.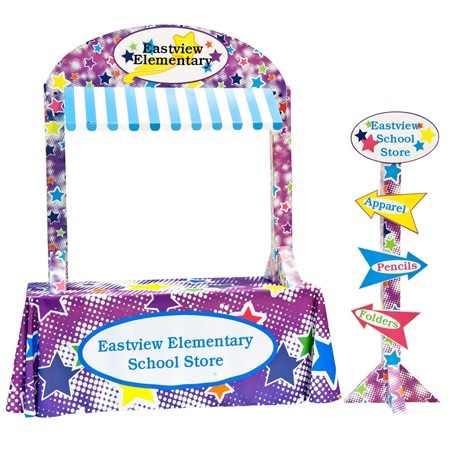 It's as important for a school store as in real estate. If you don't have a designated spot for your store, it can be as easy as setting up a table in a hot location. Think about high traffic areas such as busy hallways, lunchrooms, or activity areas.
Hours of Operation
Your store needs to be accessible to students. If it's not open when they need their supplies, they may go elsewhere. By the same token, most school stores cannot possibly function full time. Choose one or two days per week, or a couple of optimal hours each day. Consider before and after school, during lunch or recess, or even during activities outside the school day such as during open house, athletic events, or concerts (a great opportunity for parents to stock up for their kids).  
Choose Your Merchandise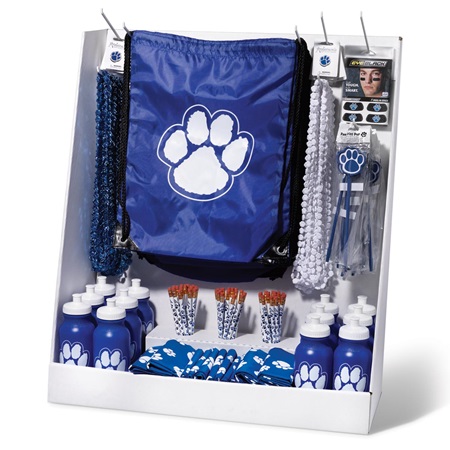 If you are just starting out, you'll want to start with the basics. As you begin to see profits you can re-invest in new and exciting stock. Bringing in new items helps keep interest and excitement high. If you're on a tight budget start with items in your school colors to save money on the imprinting. Later you can add items with your school name, logo, or mascot.
Things to consider:
Staffing Your Store
Students are key in staffing your store. They'll learn valuable lessons and help promote interest and excitement in your store. Come up with different job assignments, such as cashier, stock, inventory, advertising etc. Create job descriptions and help students gain experience in all areas.
Consider Going High-tech
We all know that life exists online for most people. Find a way to give parents and community members access to your store online. Some options include a weekly email with current "specials", an actual website for your store, or a page on your schools website, social media (facebook and twitter). The more ways you reach parents, the more excitement you'll see and the more profits you'll generate.
Advertising & Promotions
Some of the old tried & true methods of advertising still work. Kids can create posters to hang throughout the school. Send printouts home in school communications folders, or advertise in the school newsletter. Offer specials and promotions each week or month. Sell gift certificates that parents can purchase for students or teachers. (Don't forget, your store can be a great resource for teachers needing last minute supplies too!).
Most Importantly: Have Fun
Enjoy the spirit of the project. Don't get stressed out or bogged down with the details. Let the kids sail the ship; you just provide the map to do so. In the end you'll have a successful school store, gain immeasurable experience for the kids, and help promote school spirit and morale among the entire student body and staff.