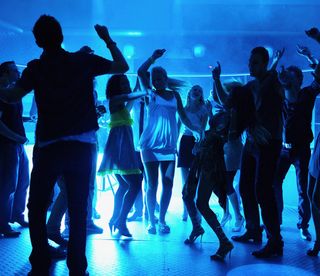 The Middle School dance is a tradition, almost a rite of passage.
But let's face it…Middle School Kids can be challenging on a good day. Trying to entertain them and keep them happy is difficult at best. Getting them excited about a school event is sometimes near impossible.
Here are some themes that will spark some enthusiasm in the kids.
Choose one of these teen dance themes or come up with your own. Then follow these simple tips with any theme you choose to get kids excited to attend: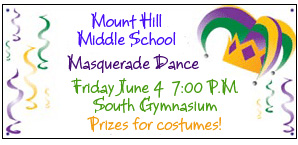 Announce your dance well in advance, custom banners are ideal for this.
Recruit as many kids as possible to participate in planning and decorating.
Set up activities, games & snack stations to match your theme.
Below you will find several popular themes for middle school dances.  Or for those who want more of an "out of the box" solution, our theme designers have created some new middle school dance themes especially for this age group!
Middle School/Junior High Dance Themes:
1. Glow-in-the-dark Dance
Invite kids to dress in white or light colors
Hand out glow bracelets or necklaces as "tickets"
Hang up black lights
Host a glow-dance competition
Give out "Glowing Awards to your dance competition winners
Set up a face painting station with glow paints
2. Awesome 80's Dance (or 60's or 70's…)
Fill your space with icons from the 80's
Invite kids to dress in 80's fashion
Play hits from the 80's
Hold 80's dance competitions
3. Masquerade Dance
Hand out masks as tickets
Decorate with masks, beads, feathers and tissue
Choose flamboyant colors
Encourage homemade masks and give awards for the most creative

4. Vegas Baby!
Casino chips or show tickets for dance tickets
Lots of casino signs, blinking lights and "flash"
Non-gambling casino tables with fun prizes
Use play money for decorations
5. Tropical Para-dance
Decorate with tropical trees, sand, sun and surf decor
Encourage kids to dress in flowered/tropical apparel
Serve tropical snacks and punch
Set up a surfboard for a photo backdrop
6. Hollywood Stars
Roll out the red carpet at the entrance
Decorate with lots of stars, use red & gold colors throughout your event
Invite students to dress as their favorite Hollywood star
Hand out awards trophies- best dancer, best dressed, best dramatic entrance, etc.
7. Avatar
Decorate with tropical decor, drape tulle or netting to create a "misty" look
Encourage kids to dress "Pandora" style
Think blue; blue punch, blue balloons, blue décor..the more blue the better.
Set up a "Blue Station" where kids can apply blue makeup or blue hairspray
Watch this video for a great tutorial on Avatar Make-up
Share your thoughts
What are your ideas for themed dances, or ways to embellish the themes listed here?