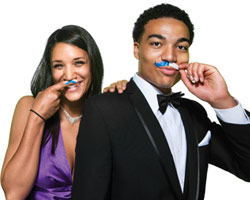 Fake mustaches are a hot trend. Make sure your school is front and center in this fun fashion trend.
From school events to Spirit Week to Prom, check out our quick and easy list of fun mustache uses.
1. Sell fuzzy Colored Mustaches in concession stands at games.
2. Stock up on fake mustaches of all colors in your school store.
3. Hand out Mustache Stickers as classroom rewards for your students.
4. Use them as temporary tattoos at school carnivals or other fun events.
5. Get teachers and staff to wear them on casual Friday.
6. Have your teams wear fake mustaches during their team photos.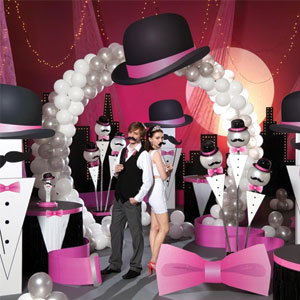 7. Dedicate a page of your yearbook to students wearing fake mustaches.
8. Choose a Formal Affair theme—full of mustaches—for your Prom theme. Teens love this formal theme with a twist.
9. Fill a Mustachio Tumbler with candies and sell them as a unique fundraiser.
10. Add a mustache imprint design to your drinkware, frames, and other unique favors. Hand out your custom favors at Prom, Winterfest, and your Senior Party.
11. Sell a Chocolate Mustache on a Stick as a winter fundraiser. It's a sweet treat your kids will love.
12. Drop a Mustache Key Chains in Prom favor bags.
With these dozen ideas as a starting point, order all kinds of mustaches for your next school event today.